Discover the GIO Titan Mobility Scooter - Loved by 1000+ Customers for its Comfort, Reliability, and Versatility Outdoors.
"The COOLEST mobility scooter ever!"
⭐⭐⭐⭐⭐
"I recently bought the GIO Titan and was impressed with its power. I have to ride up a short hill to get to my house, and with the GIO Titan, I didn't get stuck at all. I also tried riding it on different surfaces such as grass, dirt and slanted surfaces and thanks to the powerful torque motor, I didn't get stuck on any surface. I would definitely recommend it to anyone looking for a reliable and powerful mobility scooter. - 10 out of 10!"
-Bernard C.
Shop GIO Titan 👍
Discover the exclusive features of Gio Titan that have won the hearts of 1000+ customers!
1. Never worry about getting stuck on rough terrains. GIO Titan is powered by a front disc brake and a powerful torque engine.
Unlike other mobility scooters, GIO Titan has your back. That means you are less likely to get stuck on dirt, grass, and slanted surfaces.
2. Reduce the risk of falling on any terrain with Gio Titan's shock absorbers and puncture-resistant tires.
Gio Titan comes equipped with puncture-resistant tubeless tires and front-rear shock absorbers, which help prevent accidental falls. Even if the tire is damaged, you can still travel some distance before needing to address the issue.
3. Never worry about running out of charge during errands or grocery shopping - Gio Titan can run all day on a single charge.
Ride to the park. Ride to visit a friend. Ride to the mall. You can enjoy your day without any interruptions. Travel up to 30 miles (50 km) on a full charge at 15 mph 24 km/hr). This translates to hours of non-stop riding at top speed.
4. Keep your essentials within reach on the go with Gio Titan's 3 storage compartments.
It includes a under the seat storage, a bag hook, and a rear basket.
5. Never loses balance and stability while riding with Gio Titan's 3-wheel operation and wheelie bars.
3-wheel operation and wheelie bars prevent tipping over or losing balance on different terrains even when riding on uphill.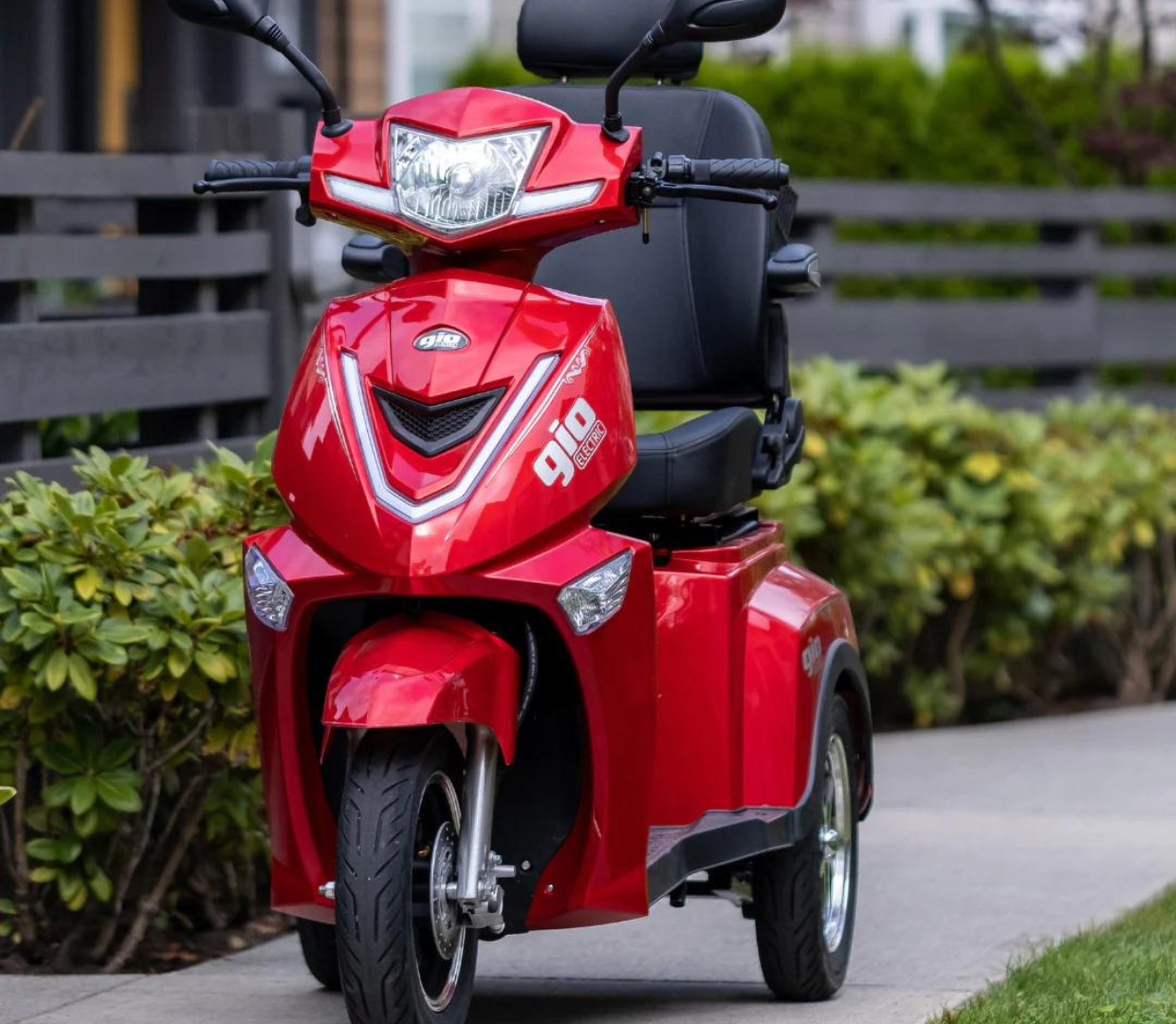 6. Stay safe and visible in any condition with Gio Titan's security wheel lock, high-visibility LED turn signals, and comfortable twist-type speed controller throttle.
Easy start with a comfortable twist throttle. Go reverse with a back up signal. Track essential information with built-in LCD.
7. Never miss a thing behind you with Gio Titan's equipped wide rear-view mirrors.
Gio Titan equipped with rear mirrors for constant awareness of surroundings.
8. Do not struggle with assembly. Gio Titan comes 95% pre-assembled.
Save time and effort with Gio Titan. The rear cargo basket and two mirrors are not mounted to prevent shipping damage.Our in-depth illustrated instruction manuals and videos make assembly a breeze. And if you need extra help, our live customer support line is one click away.